by Amy Ephron
from Vogue
Her name is Aja (because her mother liked the Steely Dan song), but you can call her Mayor Brown.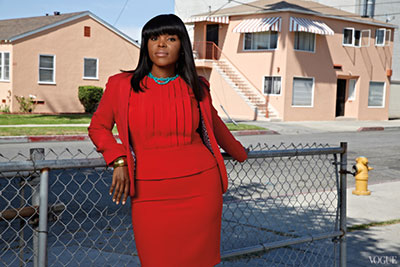 Photo: Alex Hoerner
Compton, the small California city that gangsta rap put on the map—the birthplace of Kendrick Lamar, Dr. Dre, and the infamous Suge Knight; the early training ground of Serena and Venus Williams—has a new kid in town. And if she has her way, she's going to bring a lot of changes to Compton.

Mayor Aja Brown, 31, sworn into office July 2, 2013, may be a somewhat recent resident, but she has deep roots in Compton. Her own mother, Brenda Jackson, fled the city in her twenties. Jackson's mother, Aja's maternal grandmother, Lena Young—there's no way to write this sentence without its stark reality—was brutally murdered in a violent home invasion rape and robbery in Compton in the 1970s. The case is still unsolved.
As Aja explains it in her quiet, remarkably understated way, "It's a sore spot." And then she adds, "My mother left immediately. It was just too sad . . ."
But I imagine her grandmother would be proud that her granddaughter's name is now emblazoned in gold letters on the double doors that lead to the city's offices.
Read the rest @ Vogue