by Amy Ephron
I admit it – I have a soft spot for hotel bars partly because the first time my present husband declared himself to me was at a hotel bar – albeit it was coming on the heels of "I think you have another girlfriend (true) and if you want to keep seeing me, you'd better tell her good-bye...." In fairness, we'd only been dating for a week and we hadn't kissed yet. And my version of the story is way more dramatic than his. In my version, I exit the table and he runs after me and says, "Wait, wait...I think I'm falling in love with you." In his version, the dialogue is the same, but he claims he didn't run after me in the patio of the bar at The Peninsula in Beverly Hills and dramatically stop my exit, he simply said it at the table. (I'm right, by the way....)
Neither of us dispute the second part – that the first time we kissed was in the driveway of the Peninsula (about three minutes after the declaration) as we were both waiting for our own cars and the possibility that we might never see each other again was hanging in the air. The valets all started laughing and smiling, and in my writer's mind, there was also applause (this is potentially debatable) but the valets were pretty sweet since basically it was sort of old people making out and could have elicited a slightly different reaction, like yucch, and if this is "too much information" for my children, I apologize about that....
But I do think a hotel bar is a great place for a date and (even if you're married) it's sometimes nice to have a date with your husband. Just an hour and a half at cocktail hour or after a movie for a drink and an appetizer or two.
My favorite hotel bars:
The Bel Air Hotel Bar
in Los Angeles - The moment you hit the bridge, it's like a step back in time. Recently renovated, the swans are still there and so are the 20 foot tall bird of paradise trees, romantic and seductive, almost like a world of its own. Sit in the bar and order red wine and if you're hungry inexplicably the mediterranean plate (who knew wolfgang puck understood hummus and baba ganoush) totally rocks.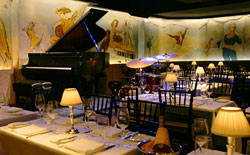 The Bemelman's Bar at the Carlyle in New York City
One of my favorite things to do in New York is to sneak into the Bemelman's bar in the morning (when it isn't open) and have a private viewing of the amazing Bemelman's paintings on the walls.....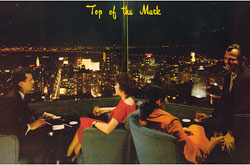 The Top of the Mark in San Francisco
It's not just the view of the city. It's a really special room, dignified and elegant. 100 martinis – one with lychee, a lemon drop and, I imagine, if you wanted to, they'd let you invent your own. It's also a really sweet place to go for Sunday brunch where the over the top buffet almost rivals Las Vegas.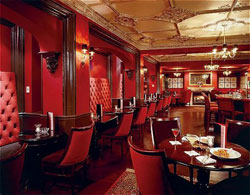 The Hay Adams in Washington D.C.
Okay, it's not exactly sexy but it's the most amazing room, dark, paneled, right across from the White House and half the men in suits just came off the Senate floor and you have the feeling that the walls have secrets and there are deals being made all around you. It almost makes you want to order a whiskey.
read them all @ One for the Table