by Amy Ephron


from Vogue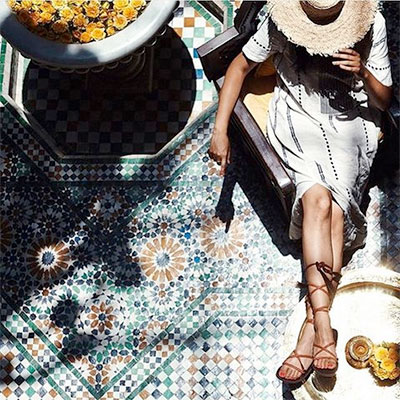 Photo: Courtesy of Brother Vellies / @brothervellies
I remember my first pair of sandals. They were white and they had a moderately thick strap across the top of the foot just where the toes start and a similar one around the ankle. The leather was soft but there was an adjustable buckle on both straps that miraculously didn't chafe. They were closed-backed, with a tiny bit of a flat heel and a sensible sole. I think I was three. I was reminded of them a few weeks ago by a photo posted on this site of Julianne Moore, proudly casual on a New York City street, wearing jeans and a pair of white Birkenstock sandals.
I could never wear white Birkenstock sandals. Strangers on the street would laugh at me, forget my kids. But Julianne Moore can wear anything and, I imagined, she'd probably been on set all week and was being kind to her feet. How sensible, how imaginative, the white being a stroke of genius, how summery! And it reminded me of my first pair of sandals and the way my toes looked when I looked down at them, unpolished but appearing incredibly happy to have the ability to wiggle at a moment's notice.
I was hooked. I lived in L.A. and I immediately figured out that except for during school hours, Sunday dinner out, a friend's birthday party, or on the rare occasion when it rained, I could actually wear sandals practically 365 days of the year. And preferably not even with a closed back, just a little strap in the back that kind of hugged your ankle and emphasized how potentially cute your legs could be. It became a bit of an obsession that would continue for years. I know that this is true because I recently received a kind of creepy Facebook message from someone I went to boarding school with. One of those, you might not remember me but I remember you, we went to school together. "And I remember that you used to wear sandals in the snow. . . ." It got creepy after that. I did not respond. I do, however, remember the sandals.
I wish I still had them now, thin, strappy things, with a tiny bit of a flat heel. Maud Frizon. Incredibly expensive and I bought them sort of defiantly (with my parents' credit card) since I didn't think it was at all fair that I had to leave California in the first place, let alone land at a boarding school in Vermont where it was regularly 30 below in winter. They were suede, muted shades of pink, gray, beige, and mauve, and in the hopes that they wouldn't be ruined, I sprayed them religiously with the can of silicon spray I kept on the top of the dresser for my boots. It made no sense that I would wear them in the snow, except I did, as if they were a badge of unrequited freedom. And I sort of understand why someone, the person who I went to high school with, who I don't remember, might have noticed.
Skinny used to be the thing and it was always my favorite—the black patent leather Manolo Blahniks I still have in the back of my closet, worthy of a dress and a night of dancing, that I wish I'd bought in multiples; the open-toed, open-backed high-heeled sandals I wore religiously to work in my twenties in a myriad of colors; the calfskin colored Miu Mius I bought in Florence, when my husband and I were on our honeymoon, that are truly a work of art, with a delicate gold chain link as an accent at the toe—no, it's not real gold—but I remember him sitting there patiently while I tried them on; and the insanely expensive (even on sale) Dries Van Notens, with a delicate beige strap at the ankle and the toes edged in a textured, turquoise patent leather that remind me of the Maud Frizons I had in high school.
But in the past few years, the width of sandal straps has edged up, the skinny strap has been replaced by something wider. There's even a version this year that looks not even like a gladiator sandal, more like a one-piece bathing suit with cutouts, which is way too much of a shoe for me but is trending in flats and in heels, in suede and leather, and definitely makes a statement.
I think a sandal should be delicate. And a well-made sandal gives a surprising amount of support. But I've edged up a bit, too. I discovered a pair of deconstructed leather Pedro Garcia flat sandals, with a moderately thick strap across the top of the foot just where the toes start, deckle edged, so it gives the shoe and the wearer a bit of an attitude, and a similar strap around the ankle. They remind me of the sandals I had when I was three. I bought them in black. And this time I learned my lesson—when I found an identical pair, almost a year later, in a sort of gray, slightly metallic color, I bought those, too.

Published in Vogue