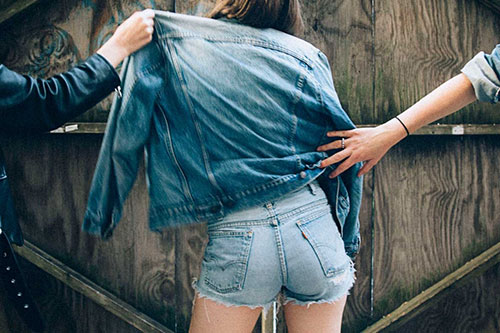 Photo: Victoria Will

Back in the day when soft denim jeans weren't really available to buy – but for an occasional pair of stone-washed (read: $$$) or recycled denim (ditto) – a worn pair of jeans was a coveted and beloved item. (Say, beloved with three syllables, please.)
I once listened to famed costume designer Anthea Sylbert whose brilliant eye informed "Rosemary's Baby," "Chinatown," "Shampoo," to name a few, proudly explain in detail, the great lengths she'd gone to stone-wash by hand herself a pair of jeans for, I can't remember whether it was Warren Beatty or Goldie Hawn's character in "Shampoo," so the blue jeans would look as if they belonged to the character. Translation: hard worn, form-fitting, and definitely not just off the rack!
Sort of like a pair of cowboy boots, blue jeans had to be "worn in," the material softened from a quick run down the subway steps to catch a train; the subway ride itself; a long run through the airport to catch a plane before the gate closed (in the days when you could run down an airport to catch a plane); nights spent watching the waves on a beach; long drives home at 2 a.m. when no one in their right mind should be on the road. The thread-bare look was earned and the holes were a badge of honor.
But there was always that day when your favorite pair of jeans sported a hole in a place where there wasn't supposed to be one, a little too high up on your inner thigh. And then what? It was too hard to throw them away. Jeans aren't just about jeans, they're about all the things you did when you wore the jeans. Throw them away? Not happening! Hopefully, it was almost summer and the hole wasn't too high up on your thigh, or even if it was! Cut-offs.
I needed a new pair of shorts, anyway...
Read the rest @ Jean Stories